Because I love Christmas so much, I start thinking about it months in advance.   I love to think long and hard about the food I'm going to make, the gifts I'm going to find for my son, the look on his face on Christmas morning, the French champagne, the cocktails, the decorations, the lights… I just overdose on the whole thing!
And because I start thinking so far ahead about it, by now I've done a fair bit of planning, so I thought I would share it all with you in a bumper post on how I do – or in some case would like to do! – Christmas.
In this post you'll find some menu ideas, recipes, gift ideas, including ones to make in your own kitchen, and more.
At the end of the post you will find a few little freebies – Christmassy things you can print out and use, from me to you 🙂
I hope you enjoy my Big Fat Abbotsford Kitchen Christmas post!
CHRISTMAS MENU IDEAS
When it comes to Christmas lunch I really think it has to be tailored to Australian conditions.  I love tradition as much as the next person, but there is just nothing fun about slaving over a hot oven for hours and hours when its 35 degrees outside, producing tray after tray of roasted meats and vegetables that everyone is too hot and bothered to really enjoy.
This doesn't mean however that it can't be special.  A roast fillet of meat instead of the whole animal, done beautifully, and surrounded by cold seafood and stunning vegetable dishes, is as festively perfect as the full roast Christmas lunch experience in my view.
To me, the secret to Christmas lunch perfection is in striking a balance between food that is special but also casual. Food you wouldn't make every day, yet comes together at the end with as little fuss as possible.  Buffet style food that can mostly be prepared  the day before is just the ticket.
I've tried to strike that balance with the menus below.  You won't find traditional recipes for pudding, mince pies, whole turkey and the like, because you can find those anywhere. The idea of these menus is to offer some inspiration for an Australian Christmas lunch.  And a pudding or mince pie here or there certainly would not be out of place.
Admittedly there is a bit of work involved with most of these menus – but if you want it to be a bit special, its really unavoidable. The trick is to plan ahead, shop ahead, order in advance, make lists and more lists, and have a roster of helpers so you can get as much as humanly possible done the day before.
But for those who can't or won't go all out on Christmas, don't worry, I've designed a menu just for you too!
Menu 1 – Casual, Classic Elegance
This is the menu I am planning for my Christmas lunch this year, and as there will be a party of 10, I am stacking it on.  It may vary between now and Christmas Day, but this mixture of classics turned into buffet fare, and a little tradition with the turkey and potatoes, is the basic formula.  The beauty of a turkey breast is it takes just an hour to cook – which is also how long the  potatoes take – so the oven is not on for hours.
Vodka Cured Salmon with Horseradish Creme Fraiche
Cold Seafood Platter with Aioli
Blood Orange Punch
Vitello Tonnato
Roast Stuffed Turkey Breast
Beetroot Carpaccio with Citrus Dressing & Creme Fraiche
Slow Roasted Kipflers
Zucchini Flower, Asparagus & Mint Salad
Raspberry & Lemon Cream Tart
1. Vodka Cured Salmon I can't have Christmas without salmon, I don't know why, but I just can't. Cured salmon, or gravlax, is so easy to make and its so good on Christmas morning with a glass of champagne.  Curing with vodka makes it extra special – a match made in heaven to me.  You will find many recipes online, here is one:  http://www.gourmettraveller.com.au/gravlax.htm.   Slice it on Christmas morning and serve on top of some rye toast (or blinis if you can be bothered making them!) and some creme fraiche with fresh grated horseradish mixed through it. Use horseradish cream if you can't get fresh.
2. Cold Seafood Platter with Aioli. Order in advance a few kilos of fresh king prawns, some oysters, and if your budget stretches, some lobster or bug tails. Peel the prawns and crack open the other crustaceans, and spread it all on a platter with a bowl of aioli in the middle.  Making your own mayonnaise will make the aioli special, but if you can't, then just buy a really good quality mayonnaise and grate some fresh garlic into it with your microplaner/ fine grater.  Have some lemon wedges and cracked pepper handy.
3. Blood Orange Punch I can't be bothered mixing individual cocktails on Christmas Day, and too much wine will make me drowsy, so a punch is perfect.  Mix 1 litre of blood orange juice with 200 ml of pink grapefruit juice, 500 ml vodka, and 750 ml  soda water.  Add ice and slices of blood orange, lime and lemon.  For extra vavoom, add 150 ml of grappa.
4. Vitello Tonnato I first had vitello tonnato – warm slices of poached veal with a tuna mayonnaise – in Italy and it was simply amazing. I've been afraid to ever try making it in case it doesn't live up to that experience, but I'm going to give it a go this year.  I think its just perfect for the summer Christmas buffet table.  I have a recipe in an old and trustworthy cookbook that I am going to use, but there are plenty online and here is one:  http://www.gourmettraveller.com.au/vitello-tonnato.htm.
5.  Roast Stuffed Turkey Breast Cooking a stuffed turkey breast has many advantages: it only takes an hour, there is no stressing about whether or not different parts of the bird are over or undercooked, and there is no waste.  Order a prestuffed turkey breast if you wish, but doing it yourself is not so hard, and its so worthwhile – it really will be special.  Its easy to  prepare the turkey breast the day before, so on the day you are just taking it out of the fridge and into the oven.  I will be putting up a post in the next week or so on how I plan to do mine, so if you don't have a recipe and need one, stay tuned.
6. Beetroot Carpaccio with Citrus Dressing & Creme Fraiche I love the idea of gorgeous vegetable dishes occupying equal status as the meat and seafood.  Beetroot carpaccio – thinly sliced pieces of roast beetroot – makes a beautiful addition to the Christmas buffet table.  The day before, take 2-3 medium sized beetroots (more if you have a large crowd), wrap in foil, and roast for 1 hour 15 minutes in a 180 degree oven. Cool and refrigerate, in the foil.  The next day, remove skins, slice tops and bottoms off, and slice very thinly, placing slices in an overlapping circular pattern on a platter as you go.  Make a dressing out of 4 parts olive oil, 1 part orange juice, 2 parts lemon juice and a teaspoon of dijon mustard.  Scatter over some chopped chives, torn dill leaves, or some tiny green shoots.  In the centre, place a small bowl of creme fraiche with grated horseradish stirred through (if you are preparing the creme fraiche for the cured salmon above, make extra for  this dish).
7.  Slow Roasted Kipflers For many people roast potatoes are an essential part of Christmas Day, so I've included them in mine. But I want it to be easy.  I'm going to roast two large pans of unpeeled kipflers, sliced diagonally into about three pieces, with some whole garlic cloves, sage, rosemary and thyme leaves, and some preserved lemon or peeled rind.  Drizzle a generous amount of olive oil over the top, season with salt and pepper and put on at the same time as your turkey.  I will put my garlic cloves in halfway through so they don't burn and become bitter.
8. Zucchini Flower, Asparagus & Mint Salad I think zucchini flowers add a really special touch to a meal, transforming it into something out of the ordinary.  Before you make this, have a large bowl of iced water ready.  In a pot of boiling salted water, place asparagus spears that have been trimmed and sliced on the diagonal, and cook for 3 minutes.  Slice the zucchini flowers in half, and place in the pot with the asparagus, for just a minute. Drain, and plunge the vegetables into the iced cold water to keep their green colour.  Drain when cooled down, and put into a bowl.  In a pestle and mortar, pound one garlic clove with some salt and the zest of one lemon.  Scrape into a jar, add a handful of very finely chopped mint, the juice of half a lemon, and about a quarter of a cup of extra virgin olive oil.  Shake well, and pour over the vegetables. Toss to combine.
9. Raspberry and Lemon Cream Tart. This is a perfect summer tart, and so right for this menu.  I've never seen a recipe like this one before, so hang onto it, its a gem!
https://theabbotsfordkitchen.wordpress.com/2010/12/01/raspberry-and-lemon-cream-tart/
Menu 2 – A Beautiful Meat Free Feast
I am determined to prove that a vegetarian banquet can be beautiful, inspired, and satisfying.  No tofu. No lentils. No soy anything.  This menu lets our gorgeous fresh produce speak for itself, augmented by some delectable imported ingredients.
Jugs of Gin-infused Lychees with Mint & Tonic
Porcini & Fontina Cheese Arancini with Truffle oil
Baked Roman Gnocchi
Warm Roast Pumpkin and Goat Cheese Pasta Salad with Broccolini, Sage & Pine Nuts
Beetroot Carpaccio with Horseradish Creme Fraiche
Zucchini Flower Tart
Chocolate Cheesecake with Raspberries
1. Jugs of Gin-infused Lychees with Mint & Tonic Prepare the gin-soaked lychees the day before.  Peel and deseed fresh lychees, place in the bottom of a jug. Pour over some gin and refrigerate, covered, until the next day.  When ready to serve, top up the jug with more gin, tonic water, ice, and torn mint leaves.
2. Porcini & Fontina Cheese Arancini with Truffle oil These are so incredibly delicious and satisfying – no-one will be missing meat one bit.  You can make these in advance and freeze or refrigerate (freeze if more than a day in advance).  Pop into a warm oven half an hour before ready to serve if they are refrigerated, and 40 minutes if frozen.  Make a batch of my baked porcini mushroom risotto the day before:
https://theabbotsfordkitchen.wordpress.com/2010/02/20/baked-porcini-mushroom-risotto/

The only addition is that you want to drizzle half a teaspoon of truffle oil over when you take out of the oven, and mix through.  Cool.  Add two eggs to the mixture, and roll into balls in the palm of your hand, about the size of golf balls. Add a little flour if the mixture is too moist.  Press your thumb into the ball to make a hole, add a little cube of fontina cheese (or any cheese you like really) and cover to encase.  Roll the balls in beaten egg mix, then in breadcrumbs, and fry in olive oil on all sides until golden.
3.  Baked Roman Gnocchi This baked semolina gnocchi is a stunning vegetarian centrepiece.  You can prepare the day before up until the point where you bake it, taking the baking dish out of the fridge and into the oven an hour before you're ready to serve.
https://theabbotsfordkitchen.wordpress.com/2010/02/17/baked-roman-gnocchi/

4. Warm Roast Pumpkin and Goat Cheese Pasta Salad with Broccolini, Sage & Pine Nuts This dish is a perfect combination of flavours and textures.  You can cook the pumpkin the day before.  Roast large wedges of organic kent or jap pumkin with olive oil and garlic cloves until soft and caramelising, about 45 minutes turning once.  Remove the skin, stir in enough soft goat cheese to make it just creamy, and mash with a fork. Set aside.   Steam the broccolini for a few minutes, drain and refresh in cold water.  Brown some pine nuts and set aside. Brown some sage leaves in butter, set aside.  Cook the pasta – parpadelle is good, or shattered leftover lasagne sheets. Drain, toss through the pumpkin mix, the broccolini and the pine nuts, mixing to combine. Serve just warm, topped with the sage leaves.
5. Beetroot Carpaccio with Horseradish Creme Fraiche I'm getting lazy now.  Not really, just think this dish deserves to be on more than one menu.  See Menu 1.
6.  Zucchini Flower Tart This stunning recipe from Gourmet Traveller is a thing of beauty, but it will be a lot of work on top of all of the above. You might wish to substitute it for the pumpkin pasta dish, but that would be such a shame. You could make this a week in advance and freeze it.  http://www.gourmettraveller.com.au/zucchini_flower_tart.htm
7. I recently made this Nigella chocolate cheesecake.  The only thing I changed was the base – instead of using graham crackers (not sure what they are) and cocoa powder, I blitzed one packet of Choc Ripples and half a packet of Oreos, and added the butter.  I also took even more precautions than Nigella advises with the waterproofing, making multiple layers of both the glad wrap and the foil.  Also, I didn't drizzle any more chocolate over the top, I just dusted with cocoa powder. Much easier. On top of this, I would pile it up with fresh raspberries. Because it's Christmas. 🙂
http://www.youtube.com/watch?v=_578Uk8y2aM

Menu 3 – Australian 70's Buffet Inspired
I love a kitsch Christmas, and I have done variations of this menu many times.  You need to be lucky enough to live near a Chinese restaurant that is open on Christmas Day (bless them!) which I do.  Otherwise you'd have to cook the Peking Duck yourself, and I wouldn't recommend trying this at home.
Prawn cocktails
Oysters kilpatrick
Peking duck
Wild rice risotto terrine
Stonefruit Pavlova
Tropical Punch
1. Peel a kilo of king prawns leaving the tails on – allow 4 per person.  In martini glasses, place some shredded lettuce, and arrange the prawns in so they are around the glass, with the tails hanging over.  Top with a wedge of lemon and some thousand island dressing – tomato sauce mixed with mayonnaise, and if you wish, a dash of tobasco sauce. Perfection.
2. Place natural oysters on a baking dish.  Allow 3-4 per person. Top each with a little Worcestershire sauce, white pepper, and break off pieces of pancetta and place on the top. Grill until the pancetta is cooked a little.
3. Buy a whole barbecued duck from a Chinese restaurant on Christmas Day.  Prior to that stock up on the other ingredients: the pancakes, hoisin sauce, cucumbers and spring onions – all from an Asian grocery store.  Heat the pancakes according to the packet instructions, slice the duck and place on pancake, place pieces of sliced cucumber and spring onion with hoisin sauce over the top, roll and serve with the wild rice terrine, below.
4. A terrine screams 70's buffet but this one has sophistication.  I saw Sophie Dahl do this on her lovely lovely show, the Delicious Miss Dahl.
http://www.bbc.co.uk/food/recipes/wildricerisottoterri_93585

5. Stonefruit pavlova.  Make a pavlova according to your favourite recipe, or use this one below from one of my favourite Australian foodbloggers, Not Quite Nigella.  Serve topped with double cream, passionfruit, and thin slices of ripe peach and nectarine.
http://www.notquitenigella.com/2008/10/12/the-classic-pavlova/
6. This is basically my sister's punch recipe that I have made on Christmas Day many times.  Be warned its very, very strong! In a large bowl – one bottle of vodka, one bottle of champagne, 3/4 bottle of green ginger wine, 750 ml tropical juice, 600 ml soda water, fresh passionfruit pulp, sliced fruit of your choice and torn mint leaves.   Do not let anyone drive home if they drink this.
Menu 4 – Lazy Christmas Lunch
If you are  pressed for time, or are exhausted by the time Christmas comes around, and the thought of all the preparation involved in the menus above makes you want to curl up in a fetal position, then I have designed a menu for you.  You can achieve a fantastic home cooked Christmas lunch with minimum effort by cutting corners – buy some pre-prepared food, and throw a few simple dishes around it.
This menu might end up costing you a little more but you've probably rationalised that its worth it.
Prawn Platter with Aioli
Peking Duck Party Pies
Bellinis
Ready-rolled Roast Turkey Breast
Roast Potatoes in the Skin
Roast Pumpkin & Sage in Butter
Broad Beans & Peas with Lemon & Mint
Easiest Ever Berry Trifle
1. Prawn Platter with Aioli – buy half a kilo of cooked peeled prawns and spread them on a platter. In the centre, make an aioli with the best quality store bought mayonnaise you can get, and some finely grated fresh garlic stirred through.
2. Peking Duck Party Pies – I have seen these at markets and specialty stores.  If you can't find them, buy some other gourmet party pies.  You can buy them a few weeks ahead and put them in the freezer. Serve with the bellinis below.
3. Bellinis – Half fill champagne flutes with prosecco or champagne and top with peach juice (you can get little San Vittoria bottles of this from Italian grocers or delis).
4. Turkey Breast – The beauty of a turkey breast is that it will take the same time to cook as the roast vegetables in this menu, so you only have the oven on for 1 hour.  Order a rolled and stuffed turkey breast from a local market or specialty poultry shop.  Pick it up one or two days before, and all you have to do is rub some butter over it and stick it in the oven for an hour, basting once or twice.  Add some green grapes to the pan while roasting, and they will help you make a delicious sauce –  after you've removed the meat, add some wine and a dash of port, mash up the grapes with a fork, simmer for a few minutes, strain and serve.
5. No Fuss Roast Potatoes – you don't need to pre cook or peel potatoes, just make sure you cut them all a similar size and roast for longer than you would if you had parboiled them.  Buy some good quality kipflers or a good roasting floury potato such as russet burbank or king edward, wash well, and slice them into halves or quarters if they are big. Roast for about an hour with some rosemary sprigs and whole unpeeled garlic cloves, added halfway through.
6. Roast Pumpkin & Sage – buy  an organic kent pumpkin and cut into large crescents.  Leave the skin on but just slice the seeds out. Place in a baking tray generously rubbed with butter, and scatter over some whole garlic cloves and sage leaves.  Dot some more butter over the top. Bake for the same time as the potatoes and turkey. Top with some extra sage leaves browned in butter if you wish.
7. Broad Beans and Peas – Buy a packet each of frozen peas and broad beans.  About 15 minutes before you are ready to serve, bring a pot of salted water to the boil, toss the peas and beans in, and boil for about 4 minutes.  Drain, and toss through some butter, chopped mint and lemon zest.
8. Easiest Ever Berry Trifle – spread a packet of savoiardi biscuits (Italian sponge finger biscuits – you can get them at the supermarket) OR if you prefer, slices of your best panettone – in the bottom of a large glass bowl, splash over some marsala so the biscuits are soaked through, spread thickly with some good quality store bought custard, make a layer of  fresh raspberries and blueberries, and top with a layer of thickened cream.  Shave some dark chocolate over the top.
GIFT INSPIRATION FOR THE COOK YOU LOVE
I am an avid online window shopper, and this Christmas I've done most of my shopping online.  Here are some fab kitchen gift ideas that have made their way onto my bookmarks this year.
If you are ordering from an international site, you'd better get onto it quicksticks, you will usually need around 3 weeks for delivery.
Stunning tea towels from Brilliant Trees Collective, on Madeit.
http://www.madeit.com.au/detail.asp?id=171052
How unashamadely festive is this felt trivet/hotpot mat from Happy as Larry? Perfect for resting the Xmas roasting tin on!
http://www.madeit.com.au/detail.asp?id=170802
My friend and contributor to this blog, Baz the Wino, recently visited the Napa Valley and raved about his experience of dining at the French Laundry restaurant to such a degree that the cookbook is now on my most wanted list.
http://www.amazon.com/French-Laundry-Cookbook-Thomas-Keller/dp/1579651267
Waterford Crystal Twelve Days of Christmas Collection – this would be a beautiful tradition to start for someone special – giving them one flute in the collection per year for 12 years.
http://www.petersofkensington.com.au/Product/ProductInfo.aspx?id=1651771

Love these little egg warmers from Angel Linens, in fact, I love everything on that to-die-for site.  International shipping costs are a bit steep, but perfect for gifts for friends/family in the UK.
http://www.angel-linens.com/domestic-angel/alphabet-egg-cosy/prod_18.html
L
For the smallest literary cook in the house…  a Gruffalo apron!  Guess who's got one of these in their stocking this year, hee hee! Shhhh!
http://www.gruffaloshop.com/*/Clothing-and-Accessories/The-Gruffalo-Cotton-Apron/107VB01C6000
I love Modern June's shop on Etsy for so many reasons, and this is just one of them.  Such A fun idea with so much Xmas table potential!
http://www.etsy.com/listing/53565415/chalk-cloth-centerpiece-charger-placemat
More from Modern June – I have some of this bunting for my festive summer garden entertaining, and why not? Its gorgeous!
http://www.etsy.com/listing/58883918/festive-oilcloth-pennants-by-modern-june
Est Soaps – these stunning soaps are perfect for the poor cook's overworked hands, with  many of their gorgeous scents based on cooking ingredients.
http://www.estaustralia.com/Soap.asp
A very Melbourne gift… Make Me Iconic Skipping Girl Vinegar sign and Melbourne tram network map tea towels. These and more in the same vein from Shop Sui in Gertrude Street, Fitzroy.
http://www.shopsui.com.au/knickknacks.htm#
Can someone in the USA please send me some of these gorgeous Christmas candies? The international delivery costs from this candy store are unbelievably steep, damn it.  Imagine a child waking up to a bowl full of these on Christmas day?  Sigh.
http://www.hammondscandies.com/christmas-mix-tin
Ice cream cone measuring spoons from Urban Outfitters. Delightfully decorative. Practical. Perfect. Although you'd want to order a little more from the site to make the delivery cost worth it!
http://www.urbanoutfitters.com/urban/catalog/productdetail.jsp?itemdescription=true&itemCount=80&startValue=1&selectedProductColor=&sortby=&id=19369628&parentid=A_FURN_DINNERWARE&sortProperties=+subCategoryPosition,+product.marketingPriority&navCount=117&navAction=poppushpush&color=&pushId=A_FURN_DINNERWARE&popId=A_DECORATE&prepushId=&selectedProductSize=&isSoldOut=#mce_temp_url#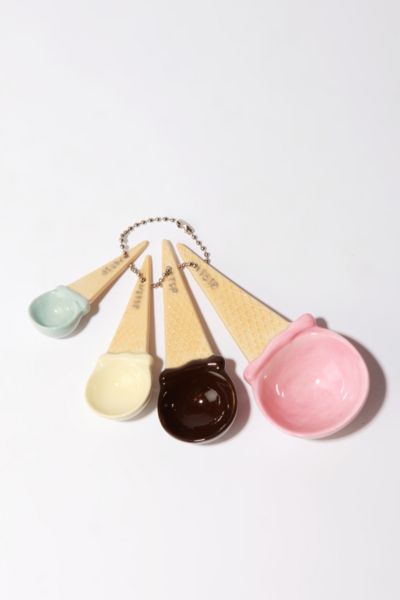 A salt pig is so useful to have near your stove or workbench, but often the openings aren't wide enough to fit your hand in.  This one looks perfect to me.  I adore the colour.
http://www.amazon.co.uk/Nigella-Lawson-Living-Kitchen-Salt/dp/B000BOK582
It wouldn't be Christmas without a trip to Ikea! They have recently improved their range of pots and  pans. I have this Medalj saucepan, I love the design and it is fantastic quality and value, from $40-$60 depending on size.
If like me you've not been married in the last 10 years you probably have never owned any Riedel glassware.  In which case, these Ikea stemless wine glasses make a terrific substitute at $6 each…
MY TOP CHRISTMAS PANTRY PICKS
1. Truffle Oil.  I am all about truffle oil this Christmas.  I had never tasted anything truffle flavoured until recently, when I resolved to see what the fuss was about.  And, yes, it is amazing.  Truly.  Get some now and use it this Christmas.  From specialty food stores, delis, etc, eg Essential Ingredient.  This small bottle by the Wine & Truffle Co was $18 from King and Godfrey, and you only need to use the tiniest amount.
2. Bonifanti Panettone – I don't particularly care for panettone, finding it a bit fake tasting.   However I am a sucker for tradition, and this stuff is ubiquitous at Christmas.  I like this brand because of the beautiful packaging it comes in. And I guess the bread does come in handy, toasted, for silencing hungry Boxing Day morning mouths while you nurse your hangover. 🙂
3. Swedish blueberry cordial from Ikea.  This makes it onto my Christmas pantry list because its not something you see every day. And because I love the old fashioned bottle. This is great for making up jugs of summer drinks for the kids, and you control the sugar.  Combine with passionfruit, berries, soda water and a dash of ginger beer for a kid's Christmas punch.
3. Silver coated almonds from Simon Johnson.  I really do not like Simon Johnson. It would have to be the most over priced, overrated food store who's doorstep I have ever darkened. Seriously, $150 bottles of olive oil,  $465 bottles of balsamic vinegar – are you kidding me?!!  I can't help but feel when they offer you a coffee while you browse its because they are so embarrassed about the prices they are trying to make it up to you.  So when I found myself recently giving the store a once over on the hunt for a hard to find ingredient, I came across these, and cursed myself.   Goddamnit they are gorgeous – so stunningly shiny and perfectly shaped. I am going to scatter mine across the Xmas table, or mix in with a bowl of nuts, or hide as treasures in the garden for children to find, or… or… or….
http://www.simonjohnson.com/store/Default.aspx?CN=CATEGORY&CA=06
4.  These chocolate coins caught my eye for two reasons – 1) they are silver and the coins are Australian and 2) they are – unusually – white chocolate.    I will scatter these and the afore-mentioned almonds around the Christmas table and garden for the little ones to find.  🙂  From Aldi stores.
5. You had me at Veuve Clicquot.  Then you go and put it in a box that looks like a French champagne-filled refrigerator.  Oh you minx….
6. Mandarin Juice – I get this sneaking suspicion that I think I have stumbled onto something new here, but actually everyone already knows about it.  Still, when I saw this for the first time at the supermarket, it brought back memories of fresh mandarin juice from street stalls in Thailand.  I had to try it. The verdict: delicious!   I will add it to daquiris on Christmas Eve, perhaps add some to a jug of Pimms, add soda water for a fizzy kid's drink without the sugar, or make frozen ice blocks for the kids.  From Woolworths (chilled section).
7. Christmas without Haigh's chocolate is just not worth getting out of bed for.  Here is their 2010 Christmas catalogue.
8. Heidel Chocolates.  As with the panettone, its not so much what's inside but the packaging I adore. Its so evocative of old childhood Christmases with its storybook imagery.  🙂  From specialty food stores (I got mine from King & Godfrey in Carlton).
GIFTS FROM YOUR KITCHEN
If you prefer to part with some time rather than cash in the lead up to Christmas, why not get into the preserving spirit, and I am not talking about one's liver, or dignity.  Here are three Christmas preserves that are easy enough to make and are handy to have in the cupboard  for those extra visitors, or when in receipt of a gift from an unexpected quarter, or some similar awkward yuletide moment.  I've even made the labels for you! 🙂 These will print on Avery J8161 (21 labels/page).
Piccalilli – I crave this yellow, mustardy English vegetable pickle this time every year, probably because its absolutely perfect at Christmas with all the extra leftover cold food to spread it on.  Here is the link to my recipe:  https://theabbotsfordkitchen.wordpress.com/2010/02/16/piccalilli/
Tarragon Vinegar – You will need to start this 2-3 weeks ahead.  In a large clean jar, add 3-4 stems fresh tarragon that has been rinsed and dried.  Top with 1200 ml white wine vinegar. Seal with some glad wrap and an elastic band under the lid. Give it a good shake.  Leave in a warm place for at least 2 weeks but no more than 3.  Shake it each day. Its a good  idea to keep it somewhere visible so you don't forget.  Strain through muslin or a clean chux cloth into sterilised bottles (see Piccalilli recipe if you don't know how to sterilise).  I use steriilised clear beer bottles for this, they are a good size.
Preserved Lemons – You will need a bag of coarse salt (the one that is in between rock salt and salt flakes, texture-wise) and some lemons, preferably from someone's tree, or organic lemons if buying them (don't used waxed lemons).  The amount of lemons you need depends on how many jars you have – but its roughly 3 lemons per jar.  Slice the lemons into quarters, put in a large bowl and sprinkle over some salt.  Rub the salt in roughly.  Take the sterilised jar, sprinkle some salt in the bottom, and push 3-4 lemon quarters firmly on the bottom, pressing as hard as you can – imagine you are one of those railway officers on the Tokyo subway who has to push everyone inside during peak hour. You want as tight a fit as possible.  Sprinkle with more salt – about a tablespoon between each layer. Repeat until the jar is full.  Finish with a layer of salt, and if the lemon quarters are not covered in juice, add some extra juice to cover.  Seal. You can use them after 1 month.  They will last in the fridge for 1 year.
CHRISTMAS LABELS
Modern psychology tells us that labels are bad. That labelling someone is negative and takes away feelings of self worth.  But if Christmas isn't about dysfunction, what is?!   The Abbotsford Kitchen's kitsch, camp and slightly wrong Christmas labels put the fun back into name calling.
Print them off and let your guests choose their label, or if you're game, choose one for them and place it on their table setting 🙂
(These are printed in the same label format as for the preserves)
Merry Christmas Turkeys!
From The Abbotsford Kitchen 🙂